Happy Anniversary to Us!

Yesterday was our 5-year anniversary! Yay! Time flies when you're having fun. The past five years have been wonderful and fun, easy-going, filled with laughter, and peppered with adventure and surprises. It's easy when you're married to your best friend, though there will be times when you are tested and stressed out (like last night!) Now, it's going to be filled with even more adventure and excitement since we've been blessed with a beautiful, bouncing baby boy! It's totally different now that we are a family. Last year, the hubs and I celebrated in Miami with friends. (Click here and look under June 1st, for the funny stories I posted last year about how we got together). Come to think of it, this is about the time rockstar baby was "in-the-works"…hahaha!

For our anniversary this year, the hubs and I went out on a date to Tribeca Grill, a restaurant in…Tribeca! Rockstar baby came with us as the "third-wheel." I could not have picked a "worser" night to go out! It normally takes us 30 minutes tops to get to downtown Manhattan, but the traffic last night was terrible! The West Side Highway (which runs down the west side of Manhattan) was just horrendous, and to top it all off, it started to rain like mad. We're talking torrential downpour complete with thunder and lightning! So we got to the restaurant late, and it took us a little over an hour and a half to get there! The hubs was not pleased, and we even stopped talking in the car. There's nothing like traffic to get people all stressed out and moody.

So after an hour and half of driving, we finally got to the restaurant. I had asked to be seated in a "quiet area" because of the baby, and we got cozy seats in the back of the restaurant. We were seated next to Freddie Prinze Jr. of all people. The only movie I ever saw him in was Scooby-Doo, and I know him more as Sarah Michelle Gellar's husband. The hubs and I had fun pretending to talk to him. "So Freddie, I guess your new show got cancelled huh?" Just kidding! But he was a very cute guy in the flesh. He left right after we ordered our food. Then we made fun of the art work on the wall which Robert De Niro painted. They were paintings that were clearly just placed there because he was the co-owner of the restaurant!

The food was divine, the service was impeccable (and speedy) and we had a great time. I ordered the hamachi tartare appetizer special and the braised short rib; the hubs ordered the very excellent crab cake appetizer and the filet mignon. He had a glass of Cabernet and I had some Riesling --my favorite white wine. The wine certainly helped us to relax after being stuck in traffic! Rockstar baby was well-behaved and slept the whole time. It was a nice way for us to spend time together and have adult conversation. For dessert, we got the Chocolate Peanut Butter and Hazelnut Mousse cake. *drool* The food was excellent and very filling.

On our way back home, there was traffic again, which was not the norm! We had to take the local route to avoid being stuck in the highway. We got home at about 11:30 and the hubs promptly went to bed because he was beat, and I changed the baby and put him to bed. That was that. We spent more time on the road than with each other! Maybe I should've waited until Saturday to celebrate like the hubs suggested! But other than the traffic, we still had a great time! But I will certainly plan better next year!




The Hubs and I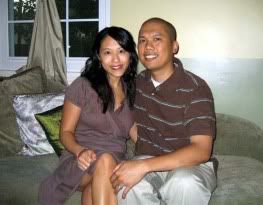 The Chocolate Peanut Butter and Hazelnut Mousse Cake saved the day!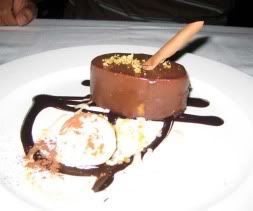 Labels: musings/personal stories