My Fall from Grace

So I went out last Thursday to my first show post-baby. I went to see The Editors at Webster Hall. So there I was, in my concert-going outfit (not quite the hipster look, but concert-casual in my Vans, green army jacket, black skirt, and a black tee). I walked over to the street in front of Webster Hall to meet up with my friends when all of a sudden, SPLADOW! I fell flat on the sidewalk, knees first, hands splayed down, cell phone flying! I don't remember tripping on anything; I just remember the falling part! Some guy picked up my phone and handed it to me as I sat on the sidewalk moaning and groaning to mask my embarrassment. But it did hurt though! The pain outweighed the embarrassment factor even though there was this cute guy who was sitting at a stoop and saw the whole thing. I sat next to him to check out the damage to my knees and he asked if I was ok. I didn't think I fell that hard, but I skinned my knees and my palms. I haven't fallen this hard since I busted my shin doing a rail while snowboarding 3 years ago. So I had throbbing knees throughout the show, but I enjoyed the show nonetheless!




My knobby knees (note the lovely purple bruises)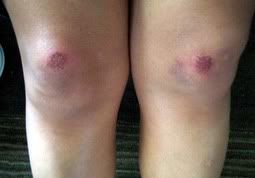 The Editors kicked-arse! We stood waay in the back on an elevated platform away from the crowds and had a great view of the stage. The frontman Tom Smith was truly dynamic (to the point of being spastic), and they sounded amazing! I took some phots, but no up close and personal shots of the guys. What a great first how to go to! There's nothing like watching a band live to inspire you to live out your rockstar dreams.
The Editors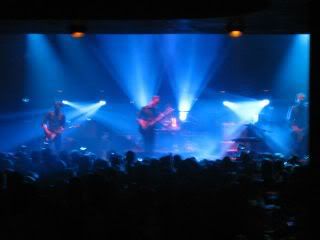 All the while, I thought of the hubs and my rockstar baby and wondered how they were doing. (Plus my boobs hurt like a motherf*cker and served as a constant reminder that I should be at home feeding the baby!) I didn't get home until midnight and when I got home, the hubs was asleep with rockstar baby also sleeping soundly on his chest. The next day, the hubs said the baby cried the whole time I was gone (which was from 7:30 – 12 am) and he seriously contemplated on calling me and asking me when I was coming home. Poor baby! He missed his mommy! I guess this means I'm not going to this show I wanted to go to tomorrow!
Today: I went to my doctor for my 6-week postpartum check-up. To my surprise, I found out I weigh pretty close to my pre-pregnancy weight. But if I'm 116 lbs, then why the hell can't I still I fit into my jeans?!