Postcards from Italy: Part I

Here's a recap of my Italian holiday. We left NYC on November 19 and came back on November 27th. We spent 3.5 days in Florence, and 3.5 days in Rome.

Firenze, Day 1

We flew in to Rome and got a connecting flight to Florence. We arrived in Florence at about 10:30 am. From the airport, we took a bus ride to the city center (about a 20-minute ride). From the bus terminal, we walked to our respective hotels (about a 10-minute walk). The hubs and I stayed at the Westin Excelsior Florence, courtesy of the hubs' Starwood Points. We had a luxurious and spacious room which had a view of the Arno River. It was conveniently located near the major attractions. After we checked in, we definitely needed a rest due to jetlag –after all, 11 am Italian time is really just 5 am Eastern Standard Time! We agreed to meet up with Girlie & Luke at their hotel and go to the Galleria dell'Accademia to see Michelangelo's famous "David" sculpture. Before that, we stopped by a small caffe' for a quick bite. I had my first taste of an authentic caprese and an Italian hot chocolate. YUM! The Accademia was a small museum which is easily manageable without a tour guide. Seeing "The David" was a great experience. Unfortunately, you're not allowed to take pictures in the museum (unless you do it on the sly). However, there is a "fake David" in the Piazza della Signoria that you can take pictures of!




View from our Hotel room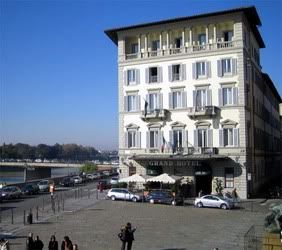 'Fake' David by the Piazza della Signoria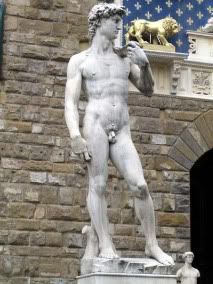 Firenze, Day 2
The hubs and I woke up early for our tour. I booked an organized tour of Florence's major attractions through
Art Viva
. On the way to our meeting point, we stopped by a pasticceria for a coffee and quick bite. We sat at a table, and I had a coffee and 2 chocolate cornettos (croissants) and the hubs had an apple Danish and a glass of OJ –this cost us 20 Euro! But more on this later…just remember what we paid!
Our walking tour was 3 hours and took us all over Florence's major points of interest as well interesting little things that are off the beaten path. Everything is fairly concentrated in the city center. There is no need to take a bus to go anywhere since you can just walk anywhere. The tour was very informative and our guide was great. You get a nice feel of the Italian Renaissance as you walk down the streets of Florence. We were able to see the famous
Duomo,
the
Strozzi Palace
, the
Palazzo Vecchio
,
the Ognissanti church
(where Boticelli is buried), and a slew of other great sites. Afterwards, we went to the Mercato Central (as recommended by our guide) to check out a fresh market and get a cheap yet authentic lunch. I recommend going to the Narbone eatery within the Mercato Central for a great, hearty lunch that will cost you less than 10 Euro. It's a very popular spot for workers in this district.
The Duomo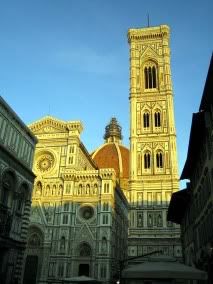 Painting Within the Duomo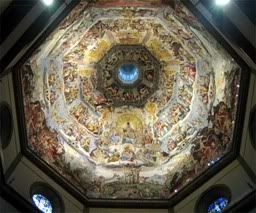 Ponte Vecchio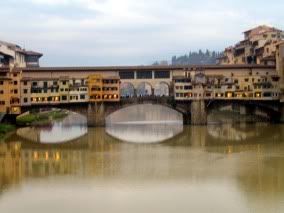 Firenze, Day 3
In the afternoon, we took a guided tour of the
Uffizi Gallery
courtesy of Art Viva. The Uffizi Gallery was previously used by the
Medici Family
to conduct their business. Now, it is a large museum that houses major works such as Boticelli's 'Birth of Venus' and gorgeous paintings by Raphael, Caravaggio, and other great artists from the Renaissance period and beyond. This is definitely a museum in which a tour guide would come in handy. Reservations are also required before you go (especially during peak season). When we went, it was only slightly crowded since we were traveling during an off-peak time. And alas, picture-taking is also not allowed (although my friend Girlie was able to sneak in some shots!).
Hall at the Uffizi Gallery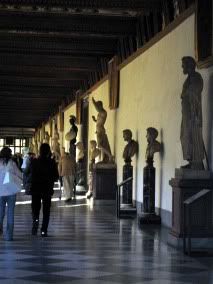 After the tour, we also visited the
Basilica of Santa Croce
. St. Croce is a gorgeous church that houses the tombs of great figures like Michelangelo, Leonard Da Vinci, Galileo, Dante, Machiavelli, and more.
Santa Croce
Tomb of Dante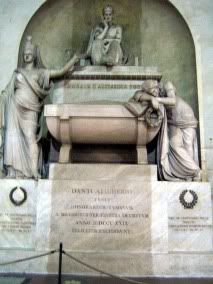 Tomb of Michelangelo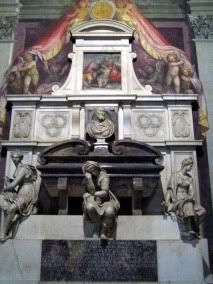 Afterwards, we strolled around Florence and went out for hot chocolates at a pasticceria called Rivoire (by Piazza della Signoria). I highly recommend this pasticceria for the best ciocolatta con pannas around! This is also when we realized that the Italians charge extra if you sit at a table versus just standing up by the bar to drink your coffee. This is why the hubs and I paid so much for our breakfast the other day despite having only coffee, juice, and pastries! For example, at Rivoire, if we had sat at a table, the hot chocolate was 7 Euros! However, we got wise and stood at the coffee bar and only paid 3 Euros for our hot chocolates. No wonder all the Italians we see all ate on the go by the bar!

So my traveling tip to you guys in Italy is if you're going to a café, eat by the bar (where they make the coffee, etc.) unless you want to be charged extra. At restaurants, prices are normal and most of them include servicio (which is the tip).
Piazza della Signoria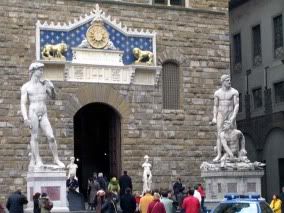 Firenze, Day 4

The hubs and I packed up to go Roma for the next leg of our tour. Meanwhile, our friends Girlie & Luke arranged a trip to nearby Bologna to get a tour of the Ducati factory. We walked back to the bus terminal and bought our tickets to Rome. We took the Trenitalia and booked second-class seats to Rome –total coast, 52 Euro for the both of us. We had nice leisurely train ride along the Tuscan countryside and got to Rome in about 1.5 hours. Not bad at all.
To be continued... more pictures to come...