Back to Blogging!

Hm…I'm not even sure if anyone noticed that I was on a 'break,' but I'm back with more new tales to tell. I was originally going to start blogging after my holiday to Miami, but since I've got something to say…hey, why not?

Baby Update: I had my anatomical ultrasound done last Friday. I have officially reached the half-way mark of 20-weeks! Another 20 weeks more or less and the baby will be here! The ultrasound took about 45 minutes. The doc said everything was fine which is always great news. The baby was moving around and waving its arms and legs during the procedure. Very cool. The hubs and I were very happy to see that the baby is doing well. No, we did not find out the sex of the baby –we're still trying to wait it out until the day it pops out. But I am dying to know! I may cave in and do this trick that a friend of ours did: They asked their doctor to put their baby's sex in an envelope. During Christmas, they opened the envelope as a gift to themselves and found out what they were having. Pretty neat. Who knows…I may end up doing that! I still have a chance of finding out since I finally buckled down and scheduled a 3D/4D ultrasound in December. So I do have an opportunity to find out if I really wanted to.


Ultrasound Pics:




The baby's profile at 20 weeks...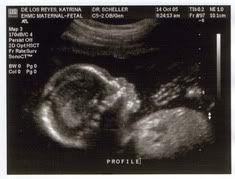 The baby's tiny foot!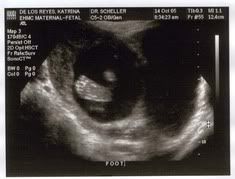 How are you feeling? If I had a dollar for each time someone asked me that, I'd certainly have enough to buy Starbucks mochas twice a week! It's so funny how people talk to you in an almost patronizing manner because you are preggo. Just because I'm preggo doesn't mean I'm an invalid! I always tell them I feel fine, and that no, I don't have any morning sickness. But a part of me gets slightly irritated whenever people ask that question. I really don't know why. I know they're just being nice and thoughtful, but at the same time, I don't feel any different at all. But that's just me. I'm weird like that.
Plastiq Passion:
We have our very first gig lined-up!! I'm so excited, not to mention freaking out over it! It's funny. I want to be a rock-star but I'm shy when it comes to actually being in front of people! We're playing at a lounge/bar in Williamsburg, Brooklyn at midnight on a worknight! I have no idea how I'm going to swing that, but I'm certainly not missing out on the opportunity. I'll have to play sitting down since I have to hold my guitar off to the side. Not the world's most comfortable way to play, but it works. Please check out for our
band's site
. I'm actually singing on one of the tracks (guess which one!). Let me know what you think but please be nice! =) The mp3s on there aren't exactly stellar quality, and there is no bass line (since we lost out bassist a month ago). We are working on a better recording and it'll be up soon. By the way, if you'd like to add us a friend, all you have to do is ask!
It's interesting how our band is finally coming along now of all times! Already, I'm thinking of how I'm going to commit to the band once the kid pops out. I asked my doc about me being in a band to see if it was safe (since my bandmates told me to). The doc asked how often do I play and I said we practice about a couple of times a week and that we are pretty loud. She actually advised me to stop in about 4 weeks or so! I was quite surprised. She said the kid hears everything, and I guess she's just erring on the side of caution. I'll definitely cut back on the practice, but I'll certainly be there if we have another gig lined up. Even my bandmates are excited about the kid. We joke about training the kid to be our roadie so s/he can learn to string a guitar at age 4 in less than 1 minute! Hehehe…
Last but not the least
…I got a raise at work! It's nice, but I know I don't make nearly enough as my friends do. I appreciate it all the same, but I do wish I made more money. Half the time, I feel like kicking myself for wanting and having a job in the public interest sector. Why couldn't I be like my other friends who work in big corporations as consultants, analysts, etc and make great salaries? I've certainly complained about my job before, but as much as I don't like the pay, I do like the work. I would just like to earn more so as to provide a great life for my family to be. In due time I guess...
Song of the Day:
Jumping Someone Else's Train by
The Cure