Best Gig Ever (or Tales from a Rock Groupie)
Who knew at the age of 28, that I'd be hanging out with members of a rock band like some teenage groupie? Last Thursday, Dec. 9th, I saw Moving Units, this L.A.-based, retro-80's, new-wave band with dancey beats. They played at the Bowery Ballroom on a rainy evening. I went there with my 2 band mates, Jes and Jess. We got there at about 9:45 pm and Moving Units were rescheduled to go on at 10:30 pm. To our surprise, there was a massive line outside the door, even if you already had tickets. So we waited in the rain along with other folks for a good 20 minutes until we actually got in.

Despite some technical difficulties with the show (e.g., we couldn't hear the singer because the mike went out; and then the sound died after the first song), it was the BEST GIG EVER! Why? Because we got to hang out with the band!! Plus, I had a great time chilling with my band-mates outside of practice! When we finally entered the joint, we immediately saw the Moving Units sitting by the bar and posing for pictures for a magazine. So I got Jes to take their picture:

Moving Units (Johan Boegli-Bass; Chris Hathaway-Drums/Vocals; Blake Miller-Vocals/Guitar)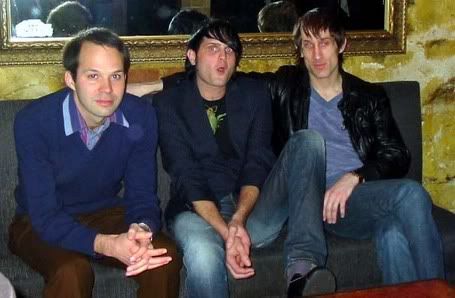 Then we got a great spot right by the stage (and right by where the bassist stood). We were within spitting distance from them (and right next to the speakers which is probably not good for the ears =). The place was packed! Who knew they would be so popular? In any case, they played a great show. The front man was super-lively and had great presence, and the drummer was hysterical. The drummer even did this "gig" after one song and danced around with his butt-crack showing.

Drummer and Bassist:



The crowd:




Me, Jes, and Jess:



Afterwards, we yelled at the bassist from where we were standing. He was like "What?!" and actually came round from the stage to meet with us. We were actually yelling "What year is your bass?!?!" like some deranged lunatics at the top of our lungs. We asked him about his bass because Jess (our bassist) was actually about to buy the same Fender Bass. Then we took a picture with him: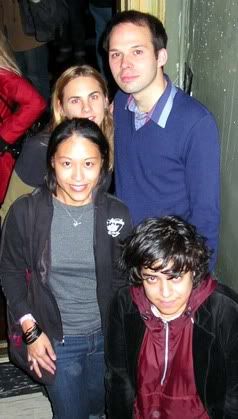 Then we went down to the bar for more drinks and just chilled. Eventually, the drummer came down and said hello to us and chatted with a group of folks. Then the singer came down and we said hello to him as well and he talked with him for a good 5 minutes or so. We commented on the fact that we couldn't hear him that well from where we stood and he was like, "oh let me tell our soiund guy next time." He was very cool.

Our pic with the singer: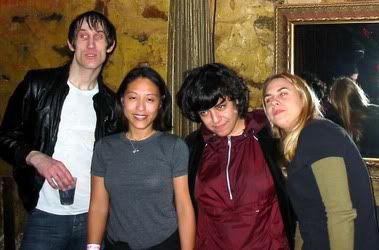 Then the bassist came down again and we talked to him for a long time. We told him about our band. Heck, if we had a demo handy, we would've so given it to him! He even signed a poster for me.

They were extremely nice and down-to-earth. I hope they become more successful! Cheers!